Meet us at JEC World #G39 & #E32, Hall 5!
4月 22, 2022
This year we have split into 2 booths to offer the best experience and meet visitors in industry-dedicated spaces.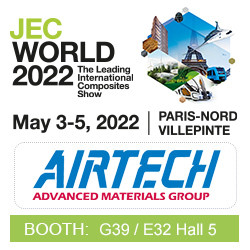 Come and visit us at booth #G39 for vacuum bagging and composite tooling materials and booth #E32 for 3D print tooling and resins! With live demos and new products to showcase there will be lots to see at each location.
Airtech boasts sixmanufacturing/distribution centers worldwide, making quick and reliable delivery of materials possible. Domestic distribution centers are in California and Tennessee. Internationallocations include Luxembourg,England and China,with additional expansion underway.
Read more here and make sure to stop by our booths in May!
Location:
Paris, France
Exposition Center Paris Nord Villepinte
Hall 5 Booth #G39 & #E32